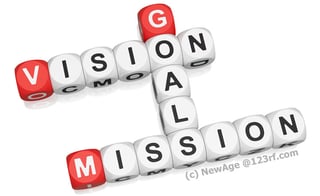 Time to Make Sure that You have Set Your Goals for 2016!
When asked, most sales managers say that one of their greatest challenges is their ability to motivate their salespeople. If a sales manager can figure out what makes his people "tick", he can better help them hit their goal numbers. Motivation seems like hard work because salespeople often value different things. There are however, several steps a sales manager can take to establish a motivating environment.
The first step is to recognize that motivation is an "inside-out' job. When the topic of motivation is discussed, we typically think about incentive compensation, sales contests and recognition programs. All of these certainly encourage sales teams to focus on generating new business because these are rewards. However, you will gain true engagement and enthusiasm if you create an every-day environment which encourages each individual to identify and visualize his own internal motivation.
Do you remember Maslow's Hierarchy of Needs pyramid? The bottom two largest tiers are Physiological and Safety because these are the most basic needs of every individual. This same concept holds true for new salespeople. Hopefully they will make their way up to self-actualization at some point, but they must first have income for food, shelter, safety, etc. Only once they realize they have attained all of these basic necessities and have established a cushion, can they turn attention to the higher tiers of Self-Actualization and the bigger dreams and goals to which they might aspire.
To put it another way, salespeople do not care about corporate shareholder value unless they are shareholders themselves. What they care about is food, shelter, clothing, recognition, paying for college education or wedding, buying a vacation home, etc. These are personal desires and make up the vast majority of things that are important to people. So the solution is to create an environment where this internal motivation can take place. See The Dream Manager book by Michael Kelly.
This means that it is up to you to help your salespeople identify what is important to them. Make the effort to set up time off-site that is dedicated to planning and spend time developing each individual's dreams and goals. This is time that you will spend ON your business instead of in it. Take a day or two that will help you and your team take a giant step forward to plan for the future.
Create a process where people can establish personal goals because this is where true motivation, passion and desire are born. Hence, it is from this process that each salesperson's business plan must evolve.
You might position this process as though you are the coach and the salespeople are players on a competitive baseball team. Each of you has a part to play so that the whole team wins. When someone objects to the dream building exercises by saying something like "You are just going to provide a goal for me anyway so why do I have to do this?", tell him that, as with a baseball team, each player must excel at his job so that the team can win and go to play-offs.
Say to him or her "Pretend that you are my ace shortstop and you want to be the best shortstop in the league. As coach I will do everything I can to help you attain this goal. But understand that I too have goals and my biggest is that we get to the World Series. We are working together, heading in the same, not different directions, to accomplish the same goals. This is a win-win for both of us."
Salespeople will understand this. If someone does not get this, he or she may not be suited for selling. Selling requires desire, commitment and a need to win. Selling is a competition.
Create an environment where people get a chance to unplug, sit down and outline their goals and dreams; a time when both of you can establish timeframes and attach financial values to these items. Once you have attached financial values, you will know what level of prospecting and selling activity is necessary for each salesperson.
Reward yourself and your people when they have a success. Many years ago, when just my wife and I were running ACTG, we celebrated every time we sold a new account. But over the past 20+ years, selling new accounts has become business-as-usual. We stopped celebrating our successes along the way. So, as your people go through this process and identify their goals, as you sit down and establish your own personal goals, be sure to specify how you will reward yourself and your people as each of you achieve these goals.
Download Tony Cole's eBook The Extraordinary Sales Manager
Addtional Resources:
Need help setting goals? Get YOUR copy of our Goal Setting Toolkit!